Tumaini University Dar es Salaam College (TUDARCo)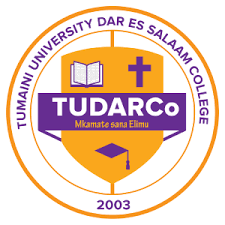 Mwenge, Coca-Cola Road, Plot #10
77588
Dar es Salaam
Tanzania
james.mchau@tudarco.ac.tz
Tumaini University Dar es Salaam College (TUDARCo) is a constituent college of the Tumaini University Makumira (TUMA) and is owned by Eastern and Coastal Diocese of of the Evangelical Lutheran Church in Tanzania (ELCT). TUMA is located at Usa River (Makumira) near Arusha. Currently the TUMA consists of three constituent Colleges, namely: Kilimanjaro Christian Medical University College (KCMUCo), in Moshi; Tumaini University Dar es Salaam College (TUDARCo), in Dar es Salaam; and Stefano Moshi Memorial University College (SMMUCo), in Moshi.

The origins of TUDARCo are embedded in the then Waldorf College Tanzania (WCT), established in 1997 as a branch and later a mission of Waldorf College, Forest City in Iowa, USA. The Waldorf College of Tanzania (WCT) was established by the Waldorf College, Iowa Forest Hill of the United States of America. In 2001, the Waldorf College Council decided to close her operations in Tanzania and the College was handed over to the Eastern and Coastal Diocese of the Evangelical Lutheran Church in Tanzania (ECD-ELCT). The Waldorf College of Tanzania then joined the Tumaini University family and changed the name to Tumaini University Dar-es-Salaam College (TUDARCo). As a result, TUDARCo was born from WCT on 1st April 2003 as a constituent College of Tumaini University, joining Makumira, KCM and Iringa University College which existed during that time.

Our Vision
To become a Christ-centred institution recognized for dedicated delivery and promotion of competitive demand-driven and needs-responsive fit-for-purpose solutions and labour-market-ready graduates.

Our Mission
To deliver and promote competitive demand-driven and market-responsive teaching and learning, research, public service and outreach through the guidance of and obedience in the Word of God, fully leveraging on social innovation and entrepreneurship for sustainable national socio-economic development.

Our Motto
Where Morals, Positive Mindset and Attitudes are Inculcated.

Our Core Values
In keeping with the TUDARCo's Christ-centred nature, the TUDARCo Family commits itself to the following core values:

Integrity, intellectual honesty and ethical behavior in all endeavors.
Excellence and professionalism in the performance all tasks undertaken.
Creativity, innovation and entrepreneurship in addressing the needs, problems and challenges.
Appreciation of diversity in academic life and university undertakings.
Collaboration, partnerships and cooperation to leverage all possible synergies.


Key Results Areas and Deliverables
The Key Results Areas through which TUDARCo seeks to achieve competitive vibrancy and dynamism are:

1. Teaching and Learning for Excellence and Professionalism.
2. Research, Innovation and Entrepreneurship for enhanced Impact and Relevance to National Socio-Economic Development.
3. Public Engagement and Partnerships with Like-minded Organizations for Synergy.
4. Human and Financial Resources Management for Institutional Competitiveness.
5. Resource Mobilization, Investment and Management of Assets for Institutional Sustainability.